Info
---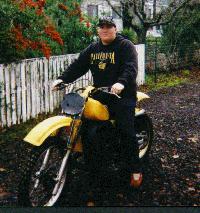 Bio-I am 17 years old, I am 5'10" I have brown getting long hair, brown eyes. Here is a picture of me.

My birthday is 11:58pm December 10, 1979. I was born in a Bay Area town called San Leandro. I then moved around a little and now I live near the Napa Valey.

Sports you say? I love to watch and play American Football. I am a Die-hard Oakland Raiders fan. I don't really get into Baseball anymore but the team I would root for would have to be the Oakland A's. I am kinda into Basketball I play it more than I watch it. I like the Chicago Bulls and The Golden State Warriors. My Favorite sport it Motocross. What is Motocross? It is a race in which there are about 50 riders and they try to make it through a series of abstacles while trying to get the lead over the other riders. What do they ride? They ride Motorcycles (Dirtbikes). I love to watch this sport but I really love to do it myself. I don't ride professionally yet but I would like to. I mainly ride on trails and in creek beds.

I am a Junior at Lower Lake High School. I plan to get a job either as a Mechanic or get into computer (where the money is).

---
Main Page